Blog Posts
Initial Rings With Diamonds-The Best Way To Amp Your Gift Game
by Mayer James on Nov 05, 2022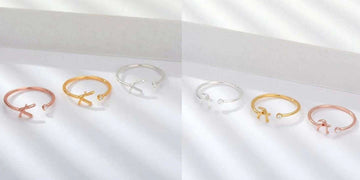 GIFTS THAT MAKE STATEMENTS 
Initial Rings With Diamonds are the perfect way to make an impression. Whether you're making someone unique or just want to find something that truly represents who you are, there's no better way than a personalized ring. You can be sure that you will enjoy it for a long, long time. These are some of our absolute favourites. Let us know what yours are.
TREND FOREVER
A signature MSHSM piece, the Rosalie ring is next-level gorgeous. Rosalie Sterling Silver Initial Ring is a best-vendor year-round, and we are now no longer amazed because it is complete with presence and modern charm. The ring is made from top class 925 Sterling Silver and is adjustable in length to shape absolutely everyone who sizes among US 6 to 8. Super cutting-edge and modern, it is sure to show heads with its uniquely flat floor and elegant design.
The
Rosalie
ring is a no-brainer preference if you are after something unique and special. It improves the appearance and makes a top-notch present for everyone in your mind. Wear it on its own - or with a
Sideways Initial Necklace
and
Aura Rope Chain Bracelet
to match and get prepared for compliments.  
CLASSIC WIN
Oh Zola, and this classic diamond ring is a must-have for any jewelry collection.
The queen of Christmas gifts has a timeless combination of dazzling zircon and topaz. Its high-quality materials and craftsmanship ensure it will last, or many! Therefore, it is an excellent option if you are looking for a meaningful Christmas gift ring. Zola is everything you need in a single piece, and we love how you can pair it with even the simplest, cleanest look of jeans and a white tee (and pretty much anything else). The stone setting speaks of timeless design and irresistible glamour. That's all we need from a truly perfect ring. If you're unsure which size is right for you, don't worry, the Zola ring is adjustable to ensure a perfect fit. 
ADD IT UP 
If you want to feature a few femininity in your jewelry game, go together with Zoe. Made with gold-plated metallic and set with great zircon, it will immediately raise any outfit. This is an upgraded twist in your vintage ring with an engraved preliminary because the preliminary is displayed on every band and completes this ring's specific look.
We love Zoe for its smooth lines, and because of this, we will pair it with anything. It's so flexible we do not often take it off. Perfect worn solo for minimalistic days or delivered with different bands for a delivered spark - it is a swoon-worthy piece that you may be proud to wear. Plus, it will make an extraordinary gift for that unique individual to your mind.