Blog Posts
Birthstone Jewelry: A Meaningful Gift for Every Occasion
by Mayer James on Apr 12, 2023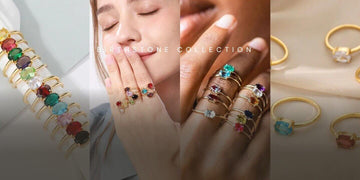 Jewelry has always been a popular way to celebrate special occasions and milestones, and birthstone jewelry is no exception. Birthstones have been used for centuries to commemorate the month of a person's birth, and are said to bring good luck, protection, and prosperity. In this blog post, we'll explore the world of birthstone jewelry, including birthstone necklaces, birthstone rings, birthstone bracelets, and more.
Birthstone Necklaces
Birthstone necklaces are a timeless and elegant way to celebrate a loved one's birthday. A birthstone necklace for mom is a popular gift choice, as it allows her to wear a piece of jewelry that represents each of her children. Birthstone necklaces come in a variety of styles, from simple and understated to bold and statement-making. Some popular designs include birthstone pendants, bar necklaces with birthstone charms, and birthstone initial necklaces.
Birthstone Rings
Birthstone rings are another classic option for celebrating a birthday or special occasion. Birthstone rings can be worn alone as a statement piece or stacked with other rings for a more layered look. Birthstone rings can also be personalized with names, dates, or other meaningful engravings. A birthstone ring makes a thoughtful and meaningful gift for a friend or loved one, and is a piece of jewelry that can be treasured for years to come.
Birthstone Bracelets
Birthstone bracelets are a popular choice for those who prefer a more subtle way to wear birthstones. Birthstone bracelets can be worn alone or stacked with other bracelets for a layered look. Birthstone bracelets come in a variety of styles, from simple and delicate to bold and chunky. Some popular designs include birthstone charm bracelets, birthstone bangle bracelets, and birthstone beaded bracelets.
In Conclusion
Birthstone jewelry is a meaningful and personalized way to celebrate a special occasion or milestone. Whether you choose a birthstone necklace, birthstone ring, birthstone bracelet, or other piece of initial jewelry, you can be sure that your gift will be cherished for years to come. So the next time you're looking for a gift that is both beautiful and meaningful, consider birthstone jewelry.