Blog Posts
BACK TO THE CLASSIC: THE VINTAGE STYLE NECKLACES
by Mayer James on Nov 20, 2022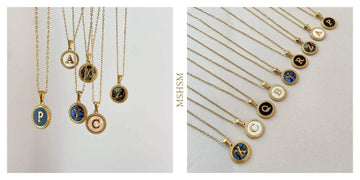 Our vintage style necklaces are on trend and better than we ever imagined. Imagine beautiful classic jewelry that never goes out of style and simply matches everything you own. Yes, for sure, we love them!
VINTAGE STYLE JEWELRY WITH CULTURED PEARL, SO WHAT IS IT?
Pearl cultivation entails the manner of pearl farmers bodily placing an irritant, along with a shell bead nucleus, in the gentle tissue of the oyster. From there, the layers of the nacre are shaped naturally, similar to those with herbal pearls. So, the principal distinction between herbal and cultured pearls is the manner the secretion manner begins. With herbal pearls, the manner takes vicinity withinside the ocean, with no human intervention. On the alternative side, cultured pearls require the help of pearl farmers to start the nacre-forming manner. Cultured pearls can take up to two years to finish the forming process. This process gives growers more control over the resulting size and shape, making these perfect for a wide selection of designs and colours. 
Our Kinsley Initial Coin Necklace is the ideal manner to feature elegance to any outfit without feeling like you are overdoing it. The new initial necklace with pearl dial from MSHSM had been designed with cutting-edge ladies in mind - they arrive in classic black and white and may be paired with different rings for an in-reality precise look. They additionally make the ideal present concept for all of us who are into sophisticated, clever styles, with a huge sort of necklaces, bracelets, and earrings. Browse via the gathering to get a concept of the exceptional designs and discover the ideal one for you.
The Kinsley Initial Coin Necklace is a unique accessory that adds vintage style to any outfit. The traditional roundness of the pearl provides a stylish contact and highlights the custom pendant you chose. The Cultured Pearl dial is set in a round 18k Gold-Plated Stainless Steel casing and features a beautiful script font that displays your initials, making this pearl initial necklace a great gift for you and your loved one.  
SHOP KINSLEY INITIAL COIN NECKLACE
LAYER IT WITH STYLE
An initial necklace with pearl has usually been a move-to desire for any occasion. They are state-of-the-art sufficient to get dressed up in a night outfit and appearance first-rate with informal wear. The
Colourful Beads Initial Choker
is the proper addition to any ensemble, however in case you need to take it up a notch, layer! Adding minor information right here and there - like dainty chains or sensitive earrings - can assist deliver out the conventional, stylish vibes pearls are recognized for. Introducing our Colourful Beads Initial Choker! This beautiful piece is handmade with a mix of colourful beads and hangs from a dainty Strand. It's perfect for dressing up any outfit - wear it on its own or layer it with our
Vintage Letter Pendant Necklace
for a Chic look.